DOB: 11/25/2007
Sire: Al-Mar's Grab a Cab
Dam: Ch. Kennedy's Wild Klassic Dream
Owned by: Fernanda Barlow



Health:
BAER: Normal
CERF: Normal - 10/2011
JHC DNA: Clear -
PATELLAS: Normal - OFA- BTR-PA1357/48M/P-VPI
SPINE - Normal - 12/2011
TRACHEA - Normal 12/2011
HIPS: Normal - 12/2011
CARDIAC: Normal OFA- BTR-CA250/48M/P-VPI

Accomplishments:
Tristan is our biggest boy (19lbs). Named after one of our most favorite songs by The Beatles, this boy's got some rhythm in him!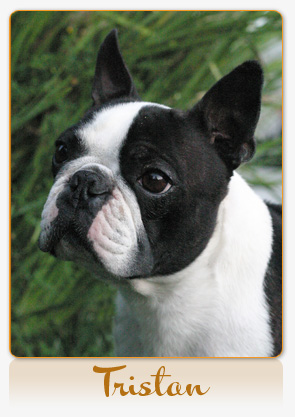 Ch. Ri-Ja's Johnny Trevor
Baby Tres
Ch. Ri-Ja's Unique Toy
Ri-Ja's Into The Night
Ch. Ri-Ja's Miss Mariah
Ch. Ri-Ja's Fistful Of Dollars
Ch. Ri-Ja's NE Cool Breeze
Al-Mar's Grab a Cab
UK Ch. Wildax Top Gun
UK Ch. Wenly Reno Of Brigwood
Wildax Ragazzi
Al-Mar's Can We Talk
Ch. Al-Mar's Mustang Sally
Ch. Ri-Ja's Bronco Billy ROM****
Al-Mar's A Touch Of Mink
Ch. Kennedy's Bravo Play'n For Keeps ROM****
Ch. Kennedy's Boston Pops
Ch. Kennedy's Crown Jewel Bijou
BISS Am/Can Ch. Pequoag GateKeeper For Kennedy ROM**
BISS Ch. Pequoag's Designer Genes ROM
Ch. Pat-Ed Pequoag NW Road Runner
Pequoag's Miss Valentine ROM
Ch. Kennedy's in Your Wildest Dream


BISS Am/Can Ch. Kennedy's Storm Watch Bramley ROM*****
Am/Can Ch. Brandy's Kennedy Rudolf Valentino ROM

Ch. Kennedy's Cest La VIe ROM
BISS Ch. Kennedy's Knoty Snow Angel MTO
Ch. Davane-Dunhoff On The QT
Ch. Davane-Dunhoff City Slicker ROM
Ch. Davane-Dunholff Escapade