DOB: 12/06/2016
Sire: CH. Imperiale Bella Ridge's Ryan Phillippe of Ironwood
Dam: GCH. Péché Mignon-Fabelhaft Heartbreaker
Bred by: Robert Smith & Stephen Miller
Owned by: Fernanda Barlow, Vivianne Mello, Robert Smith & Stephen Miller

Health:
BAER:
CERF:
JHC DNA:
PATELLAS: Normal
SPINE -
TRACHEA -
HIPS:
CARDIAC: Normal

Accomplishments:
10/14/2014 - Madonna goes Winners Bitch & Best of Opposite Sex at Mad River Valley Kennel Club in Urbana, OH

Madonna very promising young puppy with a sweet face, a lot of breed type for a baby of her age and a fantastic personality. Thank you again to Stephen and Rob for letting us have this precious girl, we couldn't be happier. We have high hopes for her!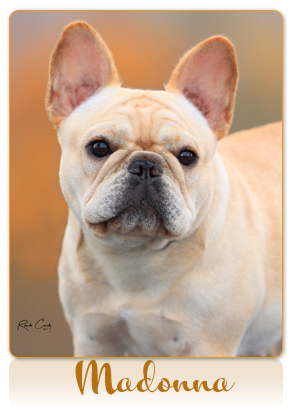 MBIS MBISS Ch. Robobull Fabelhaft Inferno
Am/Can Ch. Justamr's Golden Budda 'of'Haft
Ch. Xclusive De La Parure
Ch. Fabelhaft Too Hot to Handle
Fabelhaft Flower Power
Am/Can Ch. El Torro's Roch Voisine
Ch. Firesides Snow Belle
CCh. Imperiale Bella Ridge's Ryan Phillippe of Ironwood
Ch. Imperiales Ellijah Wood
Ch. Kishniga's Impreriale Vicomte
Ch. Imperiale's Marilyn Monroe
Ch. Imperiale's Claudette Colbert
Ch. Karendon Imperiale Grace Kelly
Ch. Kishniga's Impreriale Vicomte
The Diva at Karendon
Multi BIS Multi BISS Ch. Robobull Fabelhaft Inferno
Ch. Justamr's Golden Budda 'of'Haft
Ch. Xclusive De La Parure
BISS GCh. Fabelhaft Robobull Hot Commodity
Ch. Fabelhaft Eybuls Kiss-A-Bull
Ch. Eybul's Pure Gold
Ch. Eybul's Just Remarc-A-Bull
GCh Péché Mignon-Fabelhaft Heartbreaker
BIS BISS Ch. Robobull St Elmo's Fire
Multi BIS Multi BISS Ch. Robobull Fabelhaft Inferno
Fabelhaft Robobull Rumbleici
Ch. Fabelhaft Péché Mignon Babydoll
Ch. Fabelhaft Robobull Diamond Doll
BISS Ch. Fabelhaft Majic Marc'r
Fabelhaft Ruby Tuesday