DOB: 11/07/2015
Sire: GCH Péché Mignon's Elementary My Dear...
Dam: Dauløkke's Zublina Du Nord 'ZURI'
Bred By: Fernanda Barlow
Owned by: Fernanda Barlow, Vivianne Mello


Health:
BAER:
CERF:
JHC DNA: Clear - Negative for the HSF-4 Hereditary Cataracts mutation
PATELLAS: Normal
HIPS:
CARDIAC: Normal

Accomplishments:
07/02/17 - New Champion!!
05/27/17 - Clementine earns WB & Best of Opposite Sex​.
05/21/17 - Clementine wins Best Opposite Sex in Greentown, IN
04/23/17 - Winners Bitch & Best of Winners in Indiana under breeder judge Mr. Luis Sosa
03/19/17 - Winners Bitch for a 5 POINT MAJOR in Louisville at the Ohio Valley French Bulldog Club specialty!
03/05/17 - Clementine won a 3 point major going Winner Bitch & Best of Winners at Medina Kennel Club.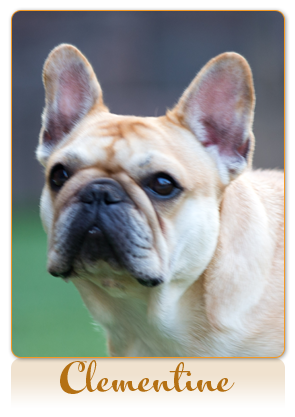 DK Ch.

Daulokke's Sartre Le Royal

DK Ch.

Geluna Von Hempel Royal Basse

DK Ch.

Daulokke's Isabeau-Dio

Ch. Daulokke's Valdonis Le Croq

DK Ch.

Daulokke's Aristobelle Du Tex
Daulokke's Une Afair D'amoure
Multi Ch. Daulokke's Nordique Haut-Couture

GCh. Péché Mignon's Elementary My Dear...

BISS GCh.

Fabelhaft Robobull Hot Commodity

MBIS MBISS Ch.

Robobull Fabelhaft Inferno
Ch. Fabelhaft Eybuls Kiss-A-Bull

Ch.

Péché Mignon-Fabelhaft Remember My Name... Fame

Ch.

Fabelhaft Peche Mignon Babydoll

BIS BISS Ch.

Robobull St Elmo's Fire
Ch. Fabelhaft Robobull Diamond Doll

Ch.

Quinton Xar Du Cousteau

Ch.

Doborowy Dobosz Admiror

Ch

.Curry Andelske Oci

Ch.

Daulokke's Uzo Le Chamour

Multi Ch.

Daulokke's Nordique Haut-Couture

BISS Multi Ch.

Robobull Fabelhaft Xcelsior
Leiboll's Praline
Daulokke's Zublina du Nord


Daulokke's Elisir D'Amore

Multi Ch.

Daulokke's Sedeux Le Duperbe


Multi Ch.

Daulokke's Raffine
Daulokke's Quintess De Soleil

DK Ch.

Daulokke's Aristobelle Du Tex

Ch.

Grand Chef Texas-Tex

Multi Ch.

Daulokke's Nordique Haut-Couture