DOB: 07/22/2014
Sire: CH. Kennedy Breaking News at Kait Klassik
Dam: CH. Kait Klassik Cherry in Chocolate
Bred by: Larisa Korshunova
Owned by: Fernanda Barlow & Vivianne Mello

Health:
BAER: Normal - BTR-BR2007/9F-VPI (04/2015)
CERF: Normal - BTR-EYE432/9F-VPI (04/2015)
JHC DNA: Clear ( 07/15)
PATELLAS: Normal
SPINE -
TRACHEA -
HIPS:
CARDIAC: Normal (04/2015)

Accomplishments:
07/08/16 - Bohemia finished her championship.
06/04/16 - Bo goes WB winning another point.
04/16/16 - Bo wins a point.
03/20/16 - Bo wins her second major at the Minuteman BTC Specialty.
10/24/15 - Bo wins a 5pt major at the Lenape BTC Specialty Show.
09/05/15 - Bo goes WB winning her second point.
07/17/15 - Bohemia wins her first point in NY.


I can't thank Larisa Korshunova enough for trusting us and letting this lovely girl come to be a part of our family. Bohemia had our heart from day one and we are very much in love with her.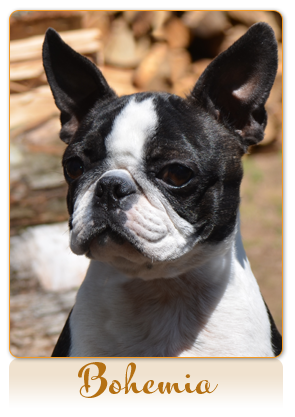 Multi BISS Ch. Kennedy's Tuckered by the Storm
Ch. Kennedy's Storm Watch Bramley ROM
Ch. Kennedy's Naughty Nadia
BISS GCh. Kennedy's Bumble Bee
Kennedy N Wild's Don't Worry Bea Happy
BIS Ch. Kennedy's Matador
Ch. Kennedy's in Your Wildest Dream
Ch. Kennedy Breaking News at Kait Klassik
Ch. Anchor's and Tarbay's Elite Humdinger
Ch. Elite's Win-Win Situation
Ch. Anchor's Tar Bay Nautical Storm
Ch. Kennedy's Tell me no Story
Ch. Kennedy's Best Selling Novel at Bramley
Ch. Pic-A-Dillie Kennedy of Bramley ROM
Bramley's Grace in a Storm
Ch. Mtnview Man About Town
Can/Am Ch. T-Bo's Mtnview Of Gold, ROM
Can/Am Ch. Apogee's Destiny, ROM
Ch. Kashmere's Man Of The Hour
CH. T-Bo 'N Kashmere's Jive Talkin
Ch. To-Che's Premium Blend, ROM
Ch. T-Bo's Karbon Kopy Of Kiwi
Ch. Kait Klassik Cherry in Chocolate
EU Ch. Ax Dagbej
Ch. Dennis Boscert
Ch. Galymera of Beacon Hill
Ch. Kait Klassik Kalifornia
CH. Rhapsody Legend Beauty Gremlins
Ch. Kennedy's Western Legend
Ch. Up To Date Kiss Me Kate