DOB: 12/13/2010
Sire: BIS BISS Ch. Robobull St. Elmo's Fire
Dam: Can. Ch. Fabelhaft Creme Bru-Lay
Bred By: James Dalton & Shelley St John
Owned by: Fernanda Barlow & Vivianne Mello

Penny Lane was a very much anticipated puppy. I had the chance to meet her father Elmo in 2010, he was absolutely stunning and stuck with me for many weeks after our encounter.
I would like to thank James Dalton and Shelley St John for trusting us to have this special girl. God only knows what this girl means to us, much more than words can express! Picking our baby up was a dream come true.


Health:
BAER:
CERF:
JHC DNA: Clear
PATELLAS: - Normal - OFA FBU-PA1387/27/F/P-VPI
SPINE: X-rayed (04/2013)
HIPS: Good - FBU- 751G27F-VPI
CARDIAC: - Normal - OFA FBU-CA1330/27/F/P-VPI

Accomplishments: At the 2012 French Bulldog Club of America National Specialty, Penny Lane was shown by her breeder and co owner, James Dalton, and on the competitive Independent Specialty she was Winners Bitch over around 70 females! Judged by the honorable judge Dr. Anthony DiNardo, winning her last major and becoming an American Champion.
We could not be more proud of this result and would like to thank once again our dear friend and Penny's breeder James Dalton for trusting us with her and for showing her to perfection at the FBDCA 2012 National.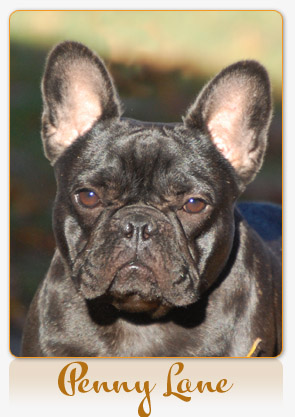 Am/Can Ch.

Justamr's Golden Buddah Of Fabelhaft

Ch.

Vi Du Lac Starhaven's Dante

Ch.

Justamere's Golden Delicious

Multi BIS Multi BISS Am/Can Ch.

Robobull Fabelhaft Inferno

Ch.

Xclusive De La Parure
Unic De La Parure
Unbara De La Parure

BIS - BISS - FBDCA Top 20 Winner - Ch.

Robobull St. Elmo's Fire

Am/Can Ch.

Competabull's Ready To Rumble

Ch.

Karendon's Joyau De France
Comepatabull's Kishniga Nicole

Can Ch.

Fabelhaft Robobull Rumleici

Ch.

Fabelhaft Gradon's Potpourri

Ch.

Bridges Marc's Risque Rogue
Gradon's Vagabond Demitasse

Multi BIS BISS Am/Can Ch.

Robobull Fabelhaft Inferno

Ch.

Justamere's Golden Buddah Of Fabelhaft

Am/Can Ch

. Xclusive De La Parure

BIS BISS Ch.

Robobull Fabelhaft I'm On Fire

Can Ch.

Escapade De La Parure

Ch.

Texas Boy V Fivelzight
Cacharel De La Parure

Can. Ch.

Fabelhaft Creme Bru-Lay



Multi BIS BISS Ch.

Fabelhaft Too Hot To Handle

Multi BIS BISS AmCan Ch.

Robobull Fabelhaft Inferno


BISS Ch.

Fabelhaft Flower Power
Fabelhaft Can-U-Handle-It

Ch.

Fabelhaft Robobull Pandamonium

Ch.

Robobull Fabelhaft Excelsior

BISS Ch.

Tea-d's Because I'm Worth It