DOB: 04/14/2010
Sire: CH. Anchor's & Tarbay's Elite Humdinger
Dam: CH. Kennedy's Best Selling Novel At Bramley
Bred by: Vicki & Sarah Kennedy
Owned by: Fernanda Barlow, Vivianne Mello & Sarah Kennedy

Health:
BAER: Normal - (Oct/2013)
CERF: Normal - (Nov/2015)
JHC DNA: Clear - (Oct.2014)
PATELLAS: Normal - BTR-PA1805/54M/P-VPI (Oct/2014)
SPINE: X-rayed - (Oct/2014)- Remarks: Normal
HIPS: Good - BTR-209G54M-VPI (Oct/2014)


Thank you Vicki and Sarah Kennedy, for letting Finn come to us. Finn is a joy to have around and we are glad to have him as a part of our family.


Accomplishments:
Finn finished his championship with 4 majors! He got his first major on his very first show at 6 months old going WD for a 5pt major at the Lenape BTC Specialty!!!
Shortly after Finn was WD for a 4pt major at the FCGFG KC under Mr. Kennedy D. Falconi.
Finn then went to the Boston Terrier Club of Maryland and there he went WD & BOW & Best-Bred By for another 5pt major under breeder judge Mrs. Denise Van Driesen.
At the very next day, Finn was awarded RWD to the 5pt major and Best Bred-By.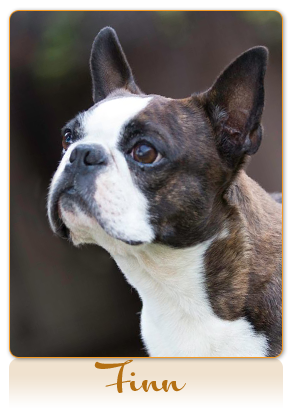 BISS Ch. Flashpoints Cosmic Ray ROM***
Ch. Motif's Chance For Justice
Ch. Flashpoints The Cat's Meow
Ch. Elite's Win-Win Situation
Elite's Miss Hollywood
Ch. Anchor's & ML's Northern Light
Elite Hollywood Biker Chick
Ch. Anchor's and Tarbay's Elite Humdinger
Ch. Stardust Wizard Of Oz Of RJ
Ch. Debohara's RJ Duff Stuff
Ch. Von Draper's Front Page Edition
Ch. Anchor's Tar Bay Nautical Storm
Ch. Anchor's & Tarbay's Caitlin
Ch. Hug-Me Heart Of Hearts
Tar Bays Annabell
BISS Ch. Sunwoods Date with Destiny
Ch. Sunwood's Repeat Performance ROM
Ch. Sunwood's Comet by Cosmo ROM
Ch. Pic A Dillie Kennedy of Bramley ROM
BISS Ch. Pic A Dillie Cosmic Sweetheart
BISS Ch. Flashpoints Cosmic Ray ROM***
Ch. Sunwood Pic-a-Dillie
Ch. Kennedy's Best Selling Novel at Bramley


MBISS Am/Can CH. Kennedy's Storm Watch Bramley ROM******
Am/Can CH. Brandy's Kennedy-Rudolf Valntno, ROM.
CH. Kennedy's C'est La Vie
Bramley's Grace in a Storm
Bramley's Just Can't Stop
CH. Bramleys Just Because
Bramley's Watch This Star