DOB: 06/25/2013
Sire: CH. T-Bo's Top Gun For Hire ROM
Dam: Ken's Ruffled Feathers
Owned by: Fernanda Barlow & Vivianne Mello



Health:
BAER: Normal
CERF: Normal
JHC DNA: Clear
PATELLAS: Normal
SPINE - Normal
TRACHEA - Normal
HIPS: Normal -
CARDIAC: Normal

Accomplishments:
07/13/2014 - Bentley finished his Championship in Carmel. He was handled by Erin Piercy and Mike Stone.
07/12/2014 - Bentley was awarded BOW at the Del Monte Kennel Club in Carmel, CA. He was beautifully handled by Lauren House and judged by Mr. Kent H. Delaney.
06/07/2014 - On his third week out, he was awarded WD and won another major at the Specialty in Vallejo. Bentley is very close to became our new Champion.
06/06/2014 - Bentley got another major going WD in Vallejo.
06/05/2014 - Bentley started the week winning his second major going WD/BOW at the Woofstock show in Vallejo.
04/04/2014 - Bentley got another 2 points under very respected judge Mr. Carl E. Gomes. What a honor!
02/02/2014 - At his very first show takes Best of Winners for a major in Springfield MA.
Thank you, my dear friend and Bentley's co-owner Matthew Dover for the wonderful job you did with our babies!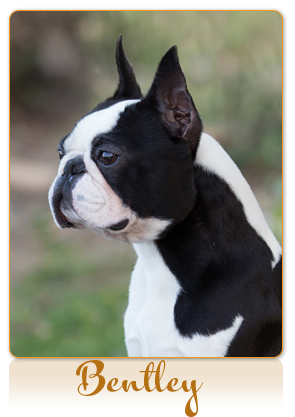 Ch. Kennedy's Elite Maestro Teddy, ROM
Ch. Kennedy's Piano Man
Elite Kennedy's Summer Storm
Ch. Kennedy's Knoty Solo Act ROM
Ch. Kennedy's Miya, ROM
Ch. Kennedy's Jack of all Trades
Kennedy's Brie
Ch. T-Bo's Top Gun For Hire ROM
Ch. Pequoag's Time Keeper For T-Bo
Ch. Kennedy's Bravo Play'n For Keeps
BISS CH. Pequoag's Designer Genes
BIS BISS Ch. T-Bo's Only Time Will Tell, ROM
Ch. Flashpoints Jamica Me Krazy
BISS Ch. Flashpoints Cosmic Ray ROM
Ch. Flashpoint's Southern Comfort by T-Bo
Ch. Justamere's Hail To Th' Chief
Ch. Justamere's Rebel With a Cause
Ch. Justamere's Fortune Renewed
BISS Ch. Ken's When I get Around To-It
Ken's Jackie Oh'
CH. Ken's Sportin' A'Biggen
Ken's Broadway Maralyn
Ken's Ruffled Feathers


Ch. Justamere's Hail To Th' Chief
Ch. Justamere's Rebel With a Cause
Ch. Justamere's Fortune Renewed
Ken's Mouna
Ken's Lana
Kingway Sundancer
Ken's Just a Nubbin