DOB: 09/29/2015
Sire: CH. Kennedy 'n Quinlan's Beelieve in Me
Dam: CH. Kennedy's Attitude is Everything for Quinlan
Bred by: Grace Quinlan, Sarah & Vicki Kennedy
Owned by: Fernanda Barlow & Vivianne Mello


Health:
BAER:
CERF:
JHC DNA: Clear
PATELLAS: Normal
SPINE -
TRACHEA -
HIPS:
CARDIAC: Normal

Accomplishments:
11/13/2016 - Alice wins her fourth major - New champion!
11/12/2016 - Alice wins another point.
10/22/2016 - Alice wins her third major.
08/27/2016 - Alice gets her second major in Springfield, MA
08/13/2016 - Alice wins her first major in Ballston Spa, NY on the second day of her showing career.


Thank you Grace Quinlan, Sarah Kennedy and Vicki Valiton Kennedy for breeding this stunning girl and trusting me with her. She sure is special!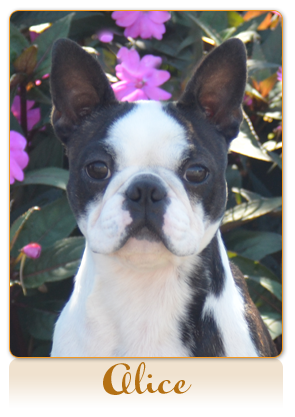 BISS Ch. Kennedy's Tuckered by the Storm
Ch. Kennedy's Storm Watch Bramley, ROM
Ch. Kennedy's Naughty Nadia
GCh. Kennedy's Bumble Bee
Ch. Kennedy N Wild's Don't Worry Bea Happy
BIS Ch. Kennedy's Matador
Ch. Kennedy's in Your Wildest Dream
Ch. Kennedy 'n Quinlan's Beelieve in Me
Ch. Anchor's and Tarbay's Elite Humdinger
Ch.Elite's Win-Win Situation
Ch. Anchor's Tar Bay Nautical Storm
Ch. Kennedy's Tell me no Story
Ch. Kennedy's Best Selling Novel at Bramley
Ch. Pic-A-Dillie Kennedy of Bramley ROM
Bramley's Grace in a Storm
Ch. Pic-A-Dillie Kennedy Of Bramley, ROM
BISS Ch. Sunwood's Date With Destiny
Ch. Pic-A-Dillie's Cosmic Sweetheart
MBISS Ch. Kennedy's Wild Lincoln Navigater ROM
Ch. Kennedy J's Navigater ROM
BISS Am/Can CH. Pequoag GateKeeper For Kennedy ROM
Ch. Pequoag J's Mason Dixie ROM
Ch. Kennedy's Attitude is Everything for Quinlan
Ch. Nipmuc's Mystic Shakespeare In Love
Ch. Kennedy's Pucker Up for Donmar
Ch. Nipmuc's Picabo ICU
Ch. Kennedy's Poker Face
Ch. Garnet Rock Rain On Me For Kennedy
Ch. Kennedy's Elite Maestro Teddy ROM
Ch. Garnet Rock J's Miss Diana